Marine Art by Michael Stark

Michael Stark has been diving for 40 years, and majored in marine biology at Florida State University. His early years in Florida, the Caribbean and South Pacific afforded a wealth of underwater experiences upon which to draw creative inspiration. "I've always loved the sea and am drawn there when I feel the need for peace".
---
| | |
| --- | --- |
| "Bali Hai Reef" | "First Kiss" |
| "In the Gathering Light" | "Twilight Harmony" |
| "Twilight Reef" | "Maui Sea Turtle" |
| "The Promise" | "Mother's Love" |
| "Emerald Tempest" | "Splash" |
| "Marlin" | "Fish Meets World" |
| "Red Fish at Dragon's Gate" | "Mahi" |
---
"A Day at the Races"
Limited Edition Lithograph by Michael Stark
Signed and numbered lithograph with edition sizes of 900 plus 90 Artist's Proofs. Approximately 20x40 inches. Studio Sale: $95 (Ships in tube)
---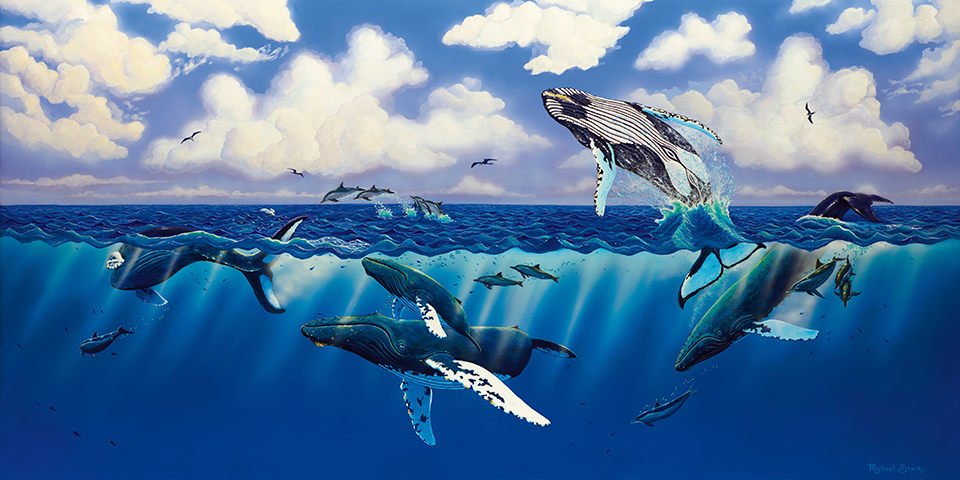 This is an energetic depiction of the pelagic realm. Usually nearly empty of visible life, the open sea explodes with diversity when the whales arrive in Hawaiian waters. In this scene, spinner dolphins swim out from coastal waters to welcome the humpback pod. Small fish attracted to the safe haven provided by the whales' bodies are chased by the spinners. As the fish leap from the water to escape, they are also set upon by frigate birds and a lone gull. The animals are all moving at high speeds as they approach Maui, hence the title 'A Day at the Races'. If you have a really vivid imagination, you might see a camel, a swan and a motorcycle racing in the clouds.
STUDIO SALE: ONLY $95
---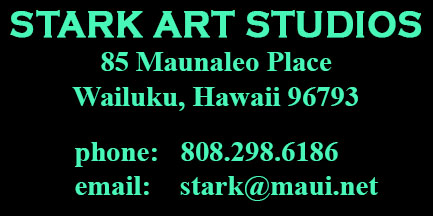 ---
maui, hawaii, art, oil, painting, artwork, impressionism, colorful, decor, island, tropical, hawaiian, landscape, seascape, prints, michael, stark, maui, art, buy, prints, reproductions, islands, kauai, photos, paint, art,artwork,maui,hawaii,michael,stark,tropical,original,paintings,prints,turtles,whales,dolphins,gauguin,island,marine,oils,seascapes,giclees,hawaiian,affordable,canvas,seascapes,fish,fishing,girls,tahiti,polynesian,
maui, hawaii, art, oil, painting, artwork, impressionism, colorful, decor, island, tropical, hawaiian, landscape, seascape, prints, michael, stark, maui, art, buy, prints, reproductions, islands, kauai, photos, paint, art,artwork,maui,hawaii,michael,stark,tropical,original,paintings,prints,turtles,whales,dolphins,gauguin,island,marine,oils,seascapes,giclees,hawaiian,affordable,canvas,seascapes,fish,fishing,girls,tahiti,polynesian,

maui, hawaii, art, oil, painting, artwork, impressionism, colorful, decor, island, tropical, hawaiian, landscape, seascape, prints, michael, stark, maui, art, buy, prints, reproductions, islands, kauai, photos, paint, art,artwork,maui,hawaii,michael,stark,tropical,original,paintings,prints,turtles,whales,dolphins,gauguin,island,marine,oils,seascapes,giclees,hawaiian,affordable,canvas,seascapes,fish,fishing,girls,tahiti,polynesian, sea turtles, humpback, whales, reef, underwater,