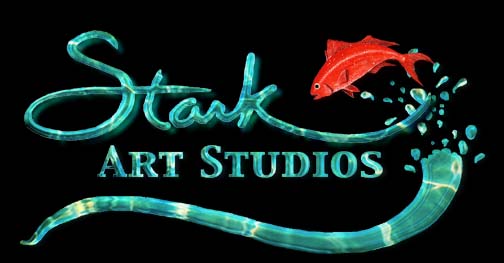 Marine Art
"I've been diving for over twenty years, and majored in Marine Biology at Florida State University. I've always loved the sea and am drawn there when I feel the need for peace. I still get out on the reef often for subsistence fishing. For my family and I there is nothing so exciting and inspirational as a day spent watching the whales breach and blow and raise their flukes in Maui's coastal waters."
---

Lithographs
---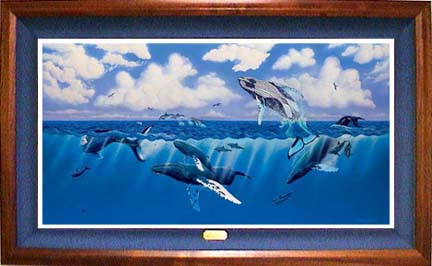 "A Day at the Races"
Limited Edition Lithograph (20x30 image size)
(Edition size: 900 with 90 artist's proofs)
This is an energetic depiction of the pelagic realm. Usually nearly empty of visible life, the open sea explodes with diversity when the whales arrive in Hawaiian waters. In this scene, spinner dolphins swim out from coastal waters to welcome the humpback pod. Small fish attracted to the safe haven provided by the whales' bodies are chased by the spinners. As the fish leap from the water to escape, they are also set upon by frigate birds and a lone gull. The animals are all moving at high speeds as they approach Maui, hence the title 'A Day at the Races'. If you have a really vivid imagination, you might see a camel, a swan and a motorcycle racing in the clouds. Click on the image for more info.
---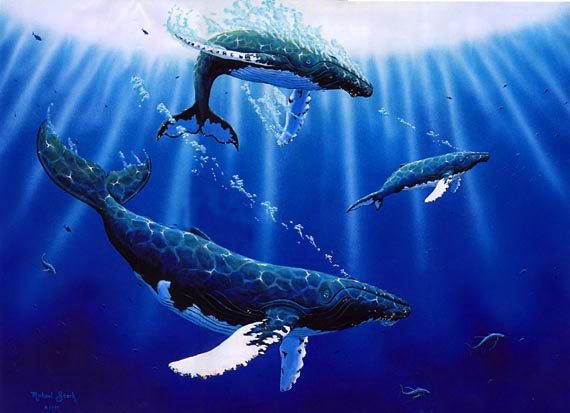 "Blue Rapture"
Limited Edition Lithograph (18x24 image size)
(Edition size: 900 with 90 artist's proofs)

This stunning lithograph features a mother whale with her young whale calf and a watchful escort in clear Hawaiian waters.
---
Canvas Giclees
These are the fantastic new generation of canvas reproductions, produced with archival color pigments guaranteed to last over a hundred years on archival canvas. These giclees ship in a tube or stretched for framing for an additional charge. Canvas giclees can be custom ordered in just about any size you might need. Click on the images below to see larger versions.
| | | |
| --- | --- | --- |
| "Turtle Reef" | "Wailea Reef" | "Maui Caravan" |
| "Morning Song" | "The Promise" | "Return to Paradise" |
| "Into the Gathering Light" | "The Hunt" | "Coming of Age" |
| "Maui Caravan" | "First Air" | "Dance of the Orca" |
ORDERING INFORMATION:
Giclees include a Certificate of Authenticity, as well as the artist's personal guarantee of satisfaction.
Ask about our decorator discounts on multiple purchases.
Email your request to Stark Art Studios for current price and information on "studio specials" and payment instructions. Delivery takes 2 to 4 weeks.
---
Fine Art Prints
All unlimited edition images below are available as open editions in high quality digitally-mastered prints.
Prints are ready to frame in double mats. Size given is outer mat size for framing.
Prices: 8x10s are $20, 11x14s are $29, 16x20s are $49.
Add 20% for shipping & handling in U.S. (40% International).
| | | |
| --- | --- | --- |
| "Homecoming" | "All for One" | "Journey North" |
| | "Turtletown" | "Ocean's Grace" |
| | | |
| "Humuhumunukunukuapua'a" | | "Lauwiliwilinukunuku'oi'oi" |
---
STARK ART STUDIOS
85 Maunaleo Place
Wailuku, Maui, Hawaii 96793
Tel: (808) 298-6186 email: stark@maui.net
---
Click Menu